Junior Navigation
Description & Course Objective
Junior Navigation is the first in a two-part program of study in offshore navigation, followed by the Navigation course. It is designed as a practical "how to" course.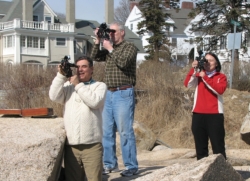 Subject matter includes:
Precise time determination
Use of the Nautical Almanac
Taking sextant sights of the sun
Reducing sights to establish lines of position
Special charts and plotting sheets for offshore navigation
Offshore navigational routines for recreational craft
Links:
Instructor
William Reasons, SN
Bio
Bill is a Past Commander of CLSPS Squadron, Past District Commander of District 27. He has taught the JN (Junior Navigation) and N (Navigation) courses.
Schedule
For course dates, check the Calendar. If not scheduled, call the Squadron Education Officer SEO. Courses will be offered based on interest and requests.