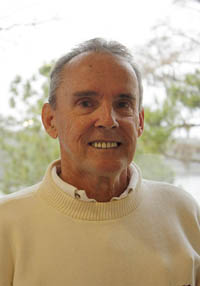 Lloyd Moore
I joined USPS in 1988 in Raleigh. I served on the Bridge in Raleigh, and was elected Commander in 2000. I earned my USCG Masters license In 1992 . Jane and I moved to New Bern in 2004, and transferred to CLSPS. I enjoy sailing on our 35' Ericson sailboat, jogging and playing tennis.
Jane Moore
My Power Squadron experience began with the Raleigh Sail & Power Squadron in 1988. After retiring and moving to New Bern in 2004, my husband, Lloyd, and I transferred our membership to the Cape Lookout Sail & Power Squadron. We enjoy sailing coastal North Carolina aboard our Ericson 35 "Liberty."
Jim Starr
After a career in telecommunications and cable industry R&D, I moved to New Bern for the boating and the town in 2005, and joined CLSPS soon after. Sherrie and I are boaters - sail, power, and paddle - and I believe wholeheartedly in the importance of safety and competence on the water. Our education program provides that with a comprehensive set of courses and superb instructors.
Paul Manganaro
After relocating in 2014 near the Neuse River and Pamlico Sound, a recommendation from an experienced sailing friend led to CLSPS & America's Boating Course. Boating safety from experienced and knowledgeable instructors has resulted in safe and confident enjoyment of a 23 ft. power boat, crewing on sailboats, and kayaking. Additional boating education and making new friends with similar interests made joining the CLSPS an easy decision. When not exploring the waters of ENC, I enjoy bicycling around this wonderful area and participating in the community and social events CLSPS offers.
Linda S Whitley

Raymond Whitley